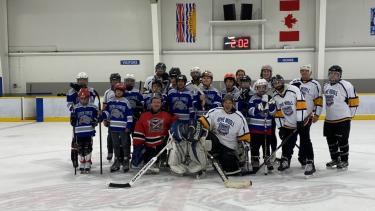 Traditions at School
April 29, 2022
Traditions are important in our lives and in the culture of a school.  We create and continue traditions to provide a sense of belonging and connection.  Traditions also give us something to look forward to during the year.  Some traditions shift and evolve over time; they are the practices that reinforce our values and identity. When Howe Middle first opened, students and staff had access to the ice regularly at the MRC.  Often students and teachers would go over at lunch to skate and play hockey. During our first year, the Howe Hockey game was started, and it has been annual staff vs. student game ever since.
Over the years, dozens of teachers and district staff have come out to play our students. Bob Woolley, Paul Giesbrecht and Pat Murphy have played every game since year one.  Each year, the student roster boasts 10-15 of our talented student skaters.
After a two-year hiatus, Howe Hockey was back for our 20th game.  Why is this game so important to who we are at Howe Middle?  It's about connection, teamwork, and respect.  Paul Giesbrecht said, "it's showing school spirit, interacting and having fun with the students and it's honoring Mr. & Mrs. Hockey through sport."  Bob Woolley echoed that saying, "it's a great way to honor Colleen & Gordie Howe and it's a fun whole school activity."
In the wise words of Gordie Howe "there's always something in the game you wish you would have done different.  That's why players improve because they learn from what they did before."   While some of our traditions will change over the years, we will stay focused building the sense of connection and teamwork, learning from what we did before. 
CHRISTINE ABBOTT
Acting Principal, Colleen & Gordie Howe Middle