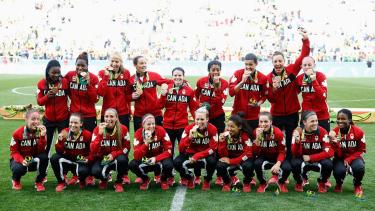 BIOGRAPHY:
Sophie Schmidt is a three-time Olympian who was part of Canada's bronze medal performance at London 2012 and Rio 2016. Schmidt made her debut in the Canadian youth program in 2003 as a 14-year-old. The next year she competed at the FIFA U-19 Women's World Cup. Schmidt debuted for the senior national team as a 16-year-old in April 2005, but continued to play with the U-20 team at the 2006 FIFA U-20 World Cup, as well as the CONCACAF Women's U-20 Championships in 2006 and 2008, winning silver and gold, respectively. Schmidt has competed at three editions of the FIFA Women's World Cup in 2007, 2011 and 2015. She also won a gold medal with Canada at the 2011 Pan Am Games in Guadalajara. From 2011 to 2015, Schmidt played in 76 consecutive international matches for Canada.
Congratulations to Sophie Schmidt and Canada's Womens' National Soccer Team for a Bronze Medal in the 2016 Olympics in Rio De Janeiro Brazil!!
Abbotsford's, and Howe Middle Alumnus, Sophie Schmidt volleyed home Janine Beckie's cross in the 55th minute to take the lead against France in the women's soccer quarter-final. The team won that game and eventually earned the Bronze medal in a victory versus the home squad Brazil. This follows a previous bronze medal in the 2012 London Summer Olympic Games.
Olympic medalist Schmidt thrills Howe Middle students with visit
Published: October 26, 2012 08:00 AM
In October 2012, Olympic soccer bronze medalist Sophie Schmidt paid a visit to one of her former schools in Abbotsford, Colleen and Gordie Howe Middle. Howe students greeted her dressed in red and white and Olympic apparel, and carrying banners and flags. A former teacher and coach of Schmidt's, Paul Giesbrecht, reminisced about his time with Sophie and jokingly showed some old photos of her and teachers from years past.
Sporting her national team jersey and bronze medal, Schmidt spoke eloquently of her journey, starting as a young girl to eventual Olympic soccer star, complete with failures, hardships, and sacrifices. "With skill, desire, commitment, and a little luck, you can achieve your dream," she said. Schmidt acknowledged the support and care she received from her Howe coaches and teachers. "Education is a must; I have my Bachelor of Science degree for when I finish my soccer career," she said. "Make sure you get your education as well."
The local star took time to sign autographs for every student wanting one, and she also posed for photos with her many young admirers. The teachers commented on how classy and down to earth Sophie presents herself. Schmidt exchanged jerseys with the school, accepting a Howe Bulldogs shirt and donating a signed Canada jersey. Howe Middle's new fitness room will display the jersey, along with a photo of Sophie and a quote that she has used over the years: "Be comfortable being uncomfortable." Sophie left Howe Middle with the message that nothing great comes without adversity, and that success is in the effort.
– article submitted by Paul Giesbrecht, Howe Middle School
By Abbotsford News