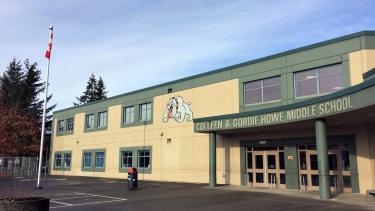 Our School
Home of the Bulldogs
Welcome To Colleen and Gordie Howe Middle School
Thank you for visiting our Webpage!  Please use the menus along the top of this page to learn more about Howe Middle.
Colleen and Gordie Howe Middle School opened its doors in September 2001, and is founded on the guiding principles of exemplary Middle Schools.
Principal's Message
Attributes of a Howe Learner
At Howe Middle, we are committed to develop learners who are:
Critical Thinkers
Collaborators
Effective Communicators
Socially Responsible
Well-Rounded
Open-Minded
Digitally Literate
Innovative
Respectful
Our Vision:
Encouraging, inspiring and empowering lifelong learners.
Our Values:
Respect, trust, integrity, communication, and teamwork.
Our Beliefs:
Through interdisciplinary curricula, the faculty and staff at Howe Middle School teach students skills that are built upon throughout their schooling and recognize that:
Students learn best when they are actively involved in their learning.
Learning must be relevant and engaging.
Students learn in different ways and all students need individual differences recognized.
We need to recognize success.
All students can be successful when we encourage their unique skills and abilities.
All students need challenges.
All students are the responsibility of the family, school and community.
We must always expect the best from others and ourselves
We must include and integrate technology as a part of the learning process
Our School Goal Inquiry Questions:
How can we build protective factors in our students? 
What effect will these have on our students' achievement?